Mad Dog Products 2000 3500 Lb. Synthetic Winch Rope with Thimble 3/16 x 49.5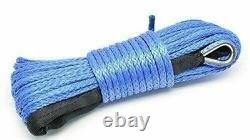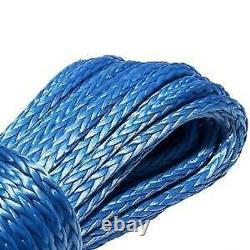 Mad Dog Synthetic Rope is the choice of off road vehicles everywhere. It is constructed from genuine Dyneema SK-75 fiber. This revolutionary fiber is the choice of off-road enthusiasts worldwide. It is stronger and lighter than wire rope and never kinks or splinters! The Synthetic rope does not store energy like steel cables, and in the event of a failure it is much less likely to result in severe injuries caused by the whiplash of broken wire rope.
Our synthetic line is woven from twelve UV-treated strands, resulting in increased strength, and a power to weight ratio unmatched by wire rope. It has a breaking strength of 5,400 pounds.
Each synthetic rope comes with a proprietary blue Samthane coating and a heavy duty, stainless steel thimble and locking eye splice. Thank you for your valua.