13500 lbs 12V DC Pulling Electric Winch for ATV UTV Synthetic Rope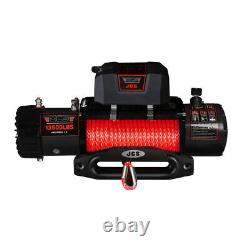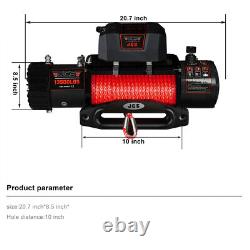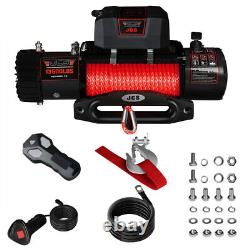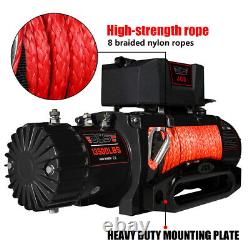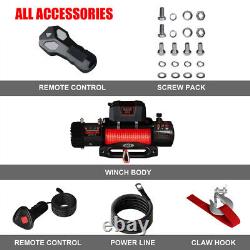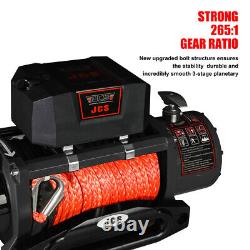 This multifunctional controller, which integrates both wired and wireless control (Up to 35m). This winch is also the latest new synthetic rope winch launched by JCS, Made of heavy-duty steel with powder coating, this trailer winch is rust and corrosion resistant with brand new accessories and related equipment.
As a standard work winch, it is very convenient to install on your car, and has strong traction. It is suitable for different off-road vehicles or other small SUVs. It can also be used in the harsh outdoor environments to ensure your travel. There is a Power in & Power out motor for Positive load control, the powerful current can not only support the operation of the motor smoothly, and operate within its rated current without any current impact, but also ensure the electric winch safety and your safety at all times.
A 6.4 HP series wound motor, with 3 stage planetary gear system and a ratio of 265:1. This electric winch is equipped with the latest and efficient three-stage planetary gear system with free spooling clutch to provide strong traction under load and faster linear speed, it will become an indispensable partner in your journey. We will offer the satisfaction guarantee and efficient, timely and friendly customer service. Rated line pull of 13,500 pounds. 6.4 HP 12V series wound motor.
Roller fairlead and mounting plate. Includes both wireless handheld remote and handle bar mounted rocker switch. Automatic braking locks rope to prevent free spooling. 13,500 lbs (6075 kgs) Single Line. 6.4HP / 4.8KW Series Wound.
Diameter 25/64(10.0mm) ×Length 85'(26.0m). Diameter 2-33/64"(64mm) × Length 8-25/32"(223mm).
Overall Dimensions (L × W × H). 22-1/2 × 9-27/32 × 13-3/8 (570 × 250 × 340mm). Pull, Speed, Amperes, Volts (First layer). Line Pull and Rope Capacity in Layer. Rated Line Pull Lbs (kgs).
Total Rope On Drum Ft (m).